An amazing 2019 Global Scrum Alliance Gathering (May 19-22), organized by SA staff that brought together a record-high number of professionals from around the globe and had countless amazing events – too many to describe them all in one newsletter. 🙂
Here, I would like to  recap what committed to my memory the most:
Keynote presentation by Daniel Pink
My personal experience from servicing the 'Fans of LeSS' booth, attended by hundreds of people
Highlights of my own presentation that draw more than 100 people: "How to Stop Deterioration of Coaching Quality: Industrially and Organizationally" and feedback from the room
Coaches Clinic and Coaches/Trainers Retreat highlights 
---
Keynote Presentation by Daniel H. Pink
During his keynote presentation, Daniel H. Pink (the best-selling author, contributing editor and co-executive producer, known world-wide) shared the highlights of his new book: The Scientific Secrets of Perfect Timing.
Pink's Synopsis: "We all know that timing is everything. Trouble is, we don't know much about timing itself. Our business and professional lives present a never-ending stream of 'when' decisions. But we make them based on intuition and guesswork. Timing, we believe, is an art.  But timing is a really a science – one we can use to make smarter decisions, enhance our productivity, and boost the performance of our organizations."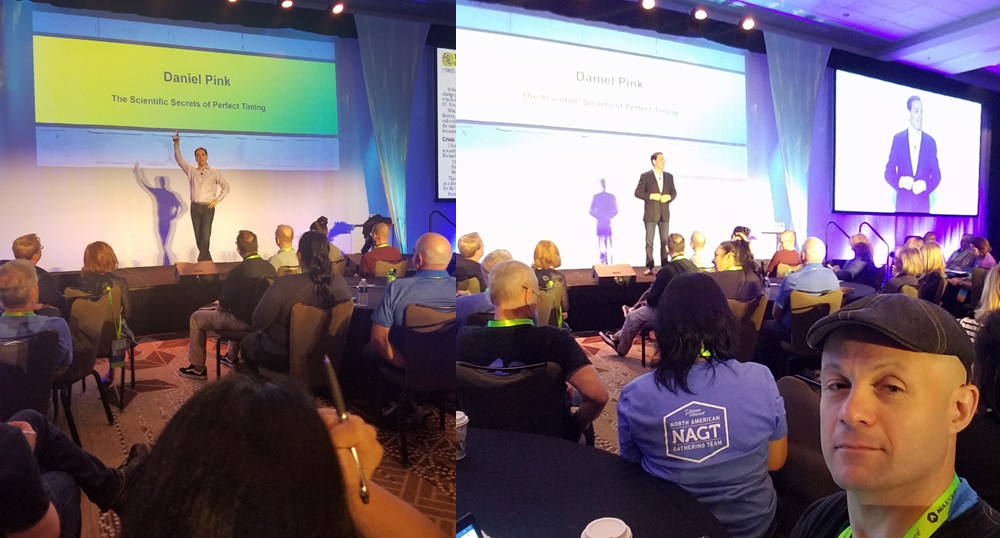 Some highlights from Pink's talk:
Scientifically and statistically, both humans and apes, have the lowest well-being at mid-life.

Therefore, D.Pink's recommendation on how to deal with such unpleasant mid-points, are as follows:
Beware [of such mid-points]
Use midpoints to wake up rather than roll over
Imagine you're a little behind
Then, D. Pink also stressed that there are hidden patterns of how time-of-day affects our analytic and creative capabilities – and how simple work rearrangements can improve our effectiveness. For example, when a person makes an appointment to a physician, it is best to ask for a morning time slot, instead of afternoon slot, since physicians tend to have more analytical capabilities before lunch.
D. Pink's next point was that as individuals get older, at the end of each decade, they are more prone to take certain actions that psychologically make them feel younger. As an example, he used statistical data of marathon runners: people are most likely to run their first marathon at the ages that are just at the brink of next decade: e.g. 29 or 49 years old.

"Because the approach of a new decade… functions as a marker of progress through the life span…people are more apt to evaluate their lives as a chronological decade ends, than they are at other times."- Daniel H. Pink
How about psychological reaction to the fact that something will be GONE and the time when it will happen is coming up shortly?
In one case study (left image), when a person was given one chocolate candy at a time, and was asked to give feedback about its taste, a response was usually consistent, for each subsequent candy. However, as soon as a person was told that it was the last candy to taste, feedback about how a candy tasted became significantly more positive.
In another case study (right image), when a group of people was asked to fill out a survey, in order to receive a certificate, before it expired, responses were different, when conditions were set as "will expire in 3 weeks" vs. "will expire in two months".  Apparently, proximity of expiration date made people much more responsive to the request to fill out a survey.

D.Pink's next point was about how half-time checks can shape our behavior and impact final results. According to D. Pink, scientists and researchers really like statistical data from sports because it is 'clean'.  Here, using an example of basketball teams, when teams play a game, the following can be observed, depending on half-time results:
Being significantly behind – usually results in a loss
Being significantly ahead – usually results in a victory
Being slightly behind – motivates people to step up and put an extra effort, which results ultimate victory
Being slightly ahead – makes people relaxed, less focused and less persuasive, which results in ultimate loss
As such, there is a conclusion:
"Being slightly behind (at half-time) significantly increases a team's chance of winning" –D.Pink
---
Fans of LeSS Corner
A small group of Certified Scrum Trainers and Certified Enterprise-Team Coaches, supported the Large Scale Scrum (LeSS booth):  Fans of LeSS.
At least a few hundred people has come by the booth, asking for information about LeSS.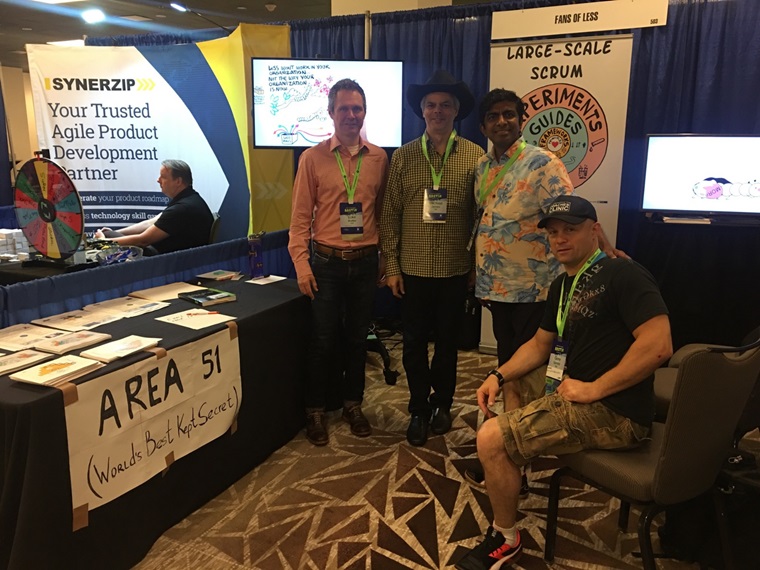 The booth servants received the following three biggest take-away points:
Unfortunately, still not too many people are aware of LeSS.  This is not to be confused with attempts or successes of adoption.  Rather, this is about general knowledge of what LeSS is. Ironically, the booth was labeled "Area 51" – the world's best kept secret :).
Once being explained what LeSS is, how simple and common-sense it is, for many people, it has become an 'AHA' moment. The most awakening moment was understanding the difference between 'global and local optimization', 'deep and narrow, as opposed to broad and shallow', 'owning vs. renting'.
Amazingly, how many people shared the same, almost standard complain/pain-point: "… we are currently using a very complicated, monolithic and cumbersome process (usually referring to some widely marketed XYZe framework), with multiple organizational layers involved,… and it creates lots of overhead, waste and friction,… practically nothing has changed in our workplace since the time we adopted it…same people, same duties and responsibilities (practically) BUT different terms, labels and roles … We really don't like what we have to deal with now and our senior management is also frustrated but it seems that there is really nothing we can do to fix it at the moment…".
---
"How to Stop Deterioration of Agile Coaching Quality: Organizationally, Industrially?" (my own presentation)
The goal of my presentation (Gene is here) was to discuss with the audience:
What is the problems' origin [as it is derived from the title]?
Examples of the problem's manifestation?
How can we solve the problem?
Throughout the course of my presentation I:
Exposed some classic systemic dysfunctions that sit upstream to the problem in scope.
Gave some examples of the problem, by using cartoons and satire
Delineated between the problem aspects, coming from outside organizations vs. siting on inside
Described types of internal (organizational) coaching structures that are to be avoided vs. tried
Gave some suggestions on what to avoid vs. what to look for in a good coach
Gave additional recommendations to companies, coaching-opportunity seekers and companies' internal recruiters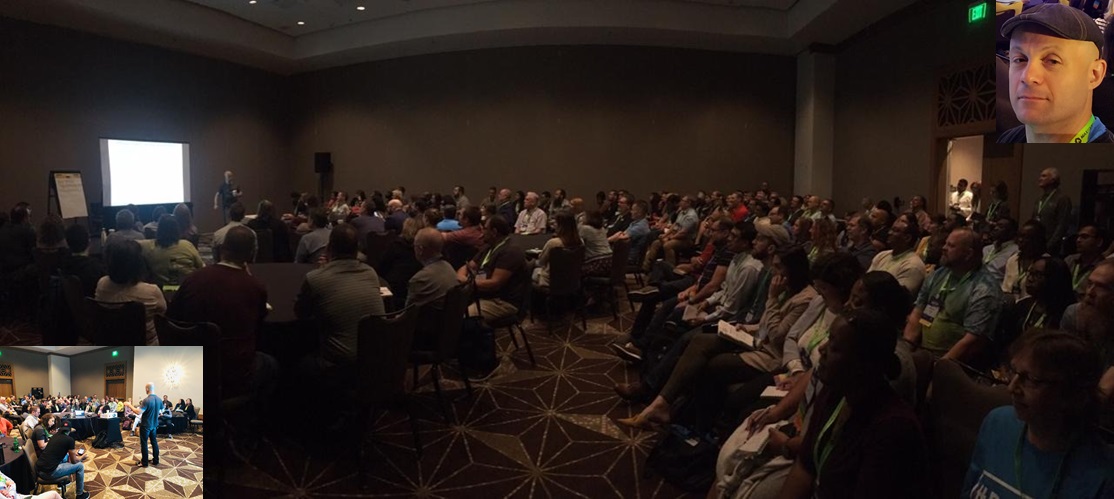 ---
…and a some additional highlights from the gathering….
The Coaches Clinic – for 3 days
This traditional 'free service' by Scrum Alliance Enterprise and Team coaches and trainers what at the highest ever: 300 people were served in total,  over  course  of  3 consecutive days.

---
Certified Enterprise & Team Coaches and Scrum Trainers Retreat – Day 0:
This year brought together the biggest ever number of CECs-CTCs and CSTs.  One of the most important themes that was elaborated: how important it is for guide-level agile experts (CECs, CTCs, CSTs) to unite together in a joint effort to change the world of work.
Note: Thanks to Daniel Gullo (CST-CEC), who generously created for each attending Certified Enterprise Coach – colleague a memorable gift: Coach's Coin with The Coach's Creed:
2020 Global Scrum Alliance Gathering is in NEW YORK(registration is not open yet)