Training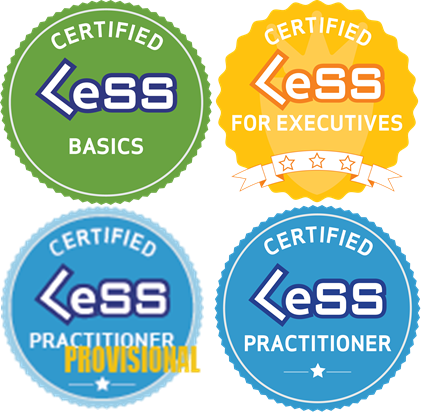 If your company is interested in scheduling a private course, please reach out directly.  Please, note that at this time, Gene Gendel's in-person CLP and CLE classes are delivered privately only.  If you are self-funding your education,  and are interested in Craig Larman's and Gene Gendel's classes, please inquire about a personal discount.
You are 3 clicks away from the registration page – please forgive extra navigation steps.
If your browser security settings (e.g. corporate policy) disable the content below, you may view it in a separate browser here.
---
Workshops
---
Self-Study Assets:
Extended References About LeSS Training:
Note: If your organization  is looking for more comprehensive support, please consider the following options, listed in the recommended order of occurrence:
Organizational Design and System Thinking training (LeSS) – THIS PAGE
---
Free Webinars, Podcasts, Panel Discussions
Please, join the oldest, largest and fastest growing global Large Scale Scrum Community.  Click on the banner below to join.

Please, use the form below to provide your feedback or submit an inquiry. Thank you.