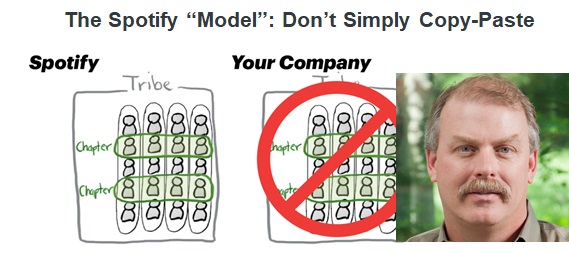 Recently, Evan  Campbell wrote an article on SolustionsIQ site: The Spotify "Model": Don't Simply Copy-Paste.  It resonated strongly with  many people. This LinkedIn feed alone attracted more than 23,000 viewers and it is growing.
On February 27, Evan was a guest-speaker at Large Scale Scrum (LeSS) meetup of NYC, answering questions about his views and the writing.  The video recording and transcript with live questions are below:
Top 5 Questions submitted before the session:
Evan's article talks about many large companies blindly adopting the Spotify model, because this is the strong recommendation they get from large consultancies. Are there any examples, at least, when such recommendations were followed and implemented successfully? It seems that ING success is overly inflated.
 In the article, there is mentioning of hard-line reporting within the "chapter" or the "tribe" structures? It means that historical/orthodox challenges of organizational design persist in new "agile" structures. Could you elaborate on that?
In the article, there is mentioning of random consultancies' PowerPoint solutions, in which a heavy deck is the most important asset delivered. It is often delivered by a consultant who has very little industry experience, yet presents from the deck 'as if' it was the best known practice. Any comments on that?
Our organization is big and one-team Scrum is not sufficient. If Spotify is not the right solution to scale, then what is?
Our company was advised to adopt Spotify model. Today, some of old vertical organizational structures (e.g. QA department, Architecture group) have become chapters, and people are mandated to be a part of those chapters. Used to be managers, are now chapter leads. Nothing seems to be changing. What are your thoughts on this?