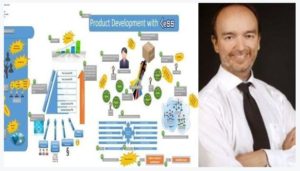 Dr. Wolfgang Richter
is the founder and CEO of JIPP.IT GmbH (
https://www.jipp.it/
), an Agile Change Agency. He is a Certified Scrum Trainer (CST), Certified LeSS Trainer (CLT) and Coach and works with Scrum and Agile Methods since 1998. He and his team specializes in improving processes and structures by using agile methods and principles. Agile Transformations is one of the main activities. Scrum and LeSS are his preferred approaches for internal and customer driven projects.
---
This is going to be a fun story. Lots of IRONY.
When an organization hits Large-Scale Scrum, it is most likely to begin with a fake adoption. Scaling per sé is not easy. And it is not recommended. However, large enterprises rarely have a choice. So what can be done to handle the burden of scaling? Which pitfalls can be observed regularly? What is against all odds likely to succeed?
---
Next virtual LeSS Training: