Another Large-Scale Scrum Training (CLP), taught by Craig Larman in NYC, is in the CompuBox.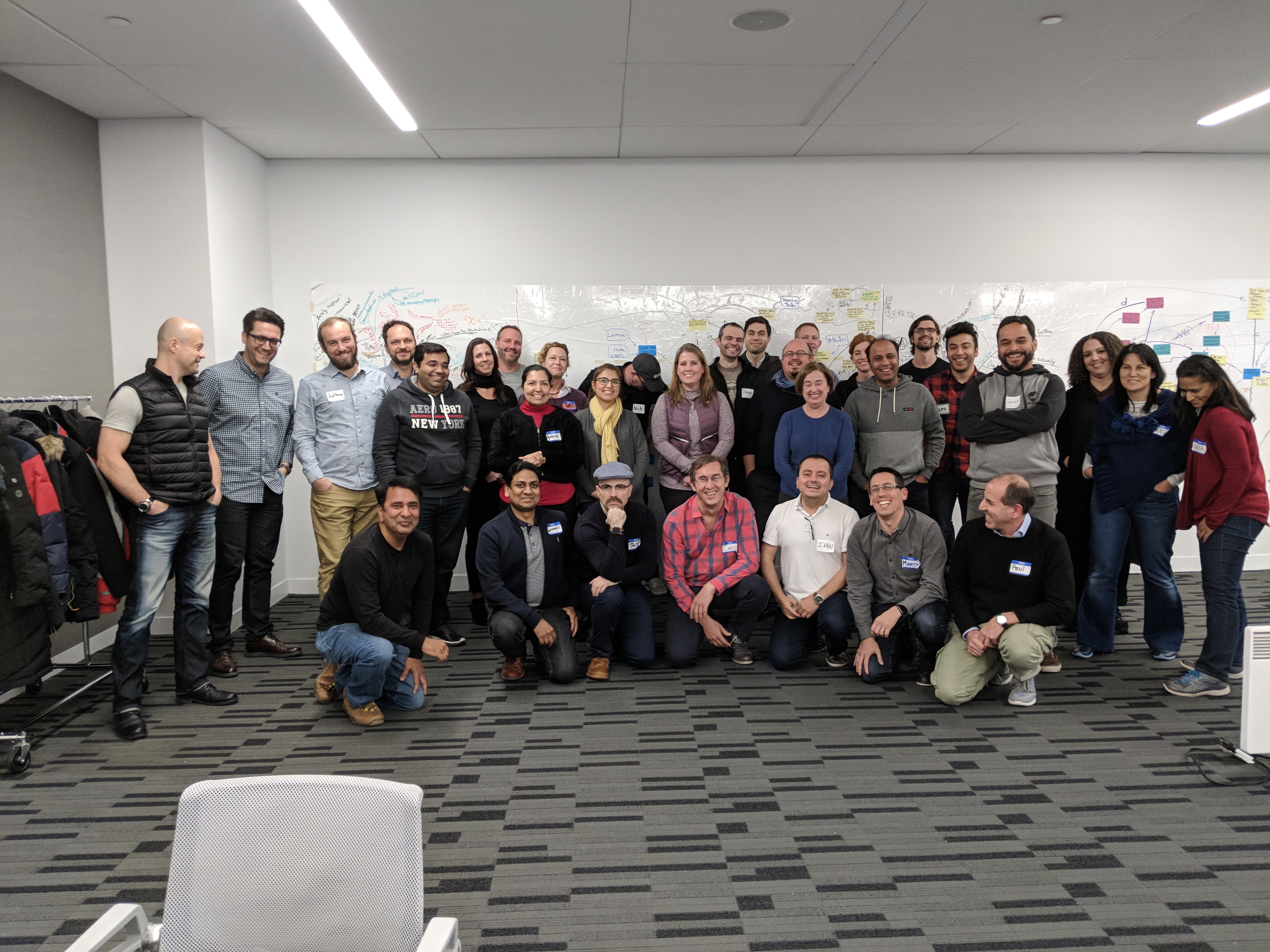 More than thirty people from all-around the globe (North America, South America, Europe) came together for this brain-jelling learning experience! The group consisted of product owners/managers, software engineers, managers and organizational design consultants (scrum masters, coaches and trainers) – people coming from different backgrounds and with a focus on different aspects of organizational agility. What has united them all, however, was their eagerness to learn in-depth about principles of organizational design and implications of Scrum adoption at scale in complex organizational settings.
Course Highlights
With exception of a few rare questions/clarifications, the class spent NO time discussing basic Scrum.  It was implicit (assumed) that everyone in class had strong knowledge and hands-on experience with the basic framework.  On occasions, the topics discussed would bump into "…oh this is not even LeSS-specific; this is just basic Scrum…" but those cases were rare.
Not until day three,is when the class took a deeper dive into LeSS Framework and LeSS-specific events, artifacts, roles…. Why was not it done sooner?   Well…
LeSS is Scrum. It is the same very Scrum described by Ken Schwaber and Jeff Sutherland in the Scrum Guide, but done by multiple teams, as they are working together, on the same product, for the same product owner.  LeSS is not "…something that IT does, that is buried in a company's basement, under many layers of organizational complexity…". LeSS is an organizational design that uses Scrum (team) as a building block.  Understanding basic Scrum made understanding of LeSS very easy for everyone.
The class was made of people that have completed all assigned homework (self-study), before attending. People knew what LeSS picture looks like ?, when coming in.  Everyone in class was an educated customer.  Importantly: there were no attempts to change LeSS (or change training content ?  of LeSS), to make it better fit conditions of organizations, where people came from.
Spending the first two days on understanding system modelling techniques, differences between causation and correlation (as well as other dynamics) among many system variables, made full understanding of LeSS on day three, come more naturally.
The class learned how to see 'the whole'/full picture of organizational ecosystem and learned to appreciate why Organizational Design is the first-order Variable that defines System Dynamics (followed by everything else: culture, policies, norms, processes, etc.)
One of my (Gene) biggest take-away points (on the top of an excellent LeSS refresher, from Craig himself), that I plan on using immediately, was the fact from history that was discussed at the beginning of the course (and, sadly, forgotten or known known by many).  And it goes as follows:
…Back in 2001, at Snowbird, UT, where the group of seventeen entrepreneurs-product-developers have met and came up with what is known today as 'Agile Manifesto', the two contending terms to-be-used were adaptive (suggested by Jim Highsmith, the author of Adaptive Software Development) and agile (suggested by Mike Beedle).  'Agile' won because of the reasons that are described here.  Truth be told, because the English meaning of 'agile' is not as intuitive is the meaning of 'adaptive', today, there is a huge number of fads and terminology overloading/misuse that make the original meaning of agile so diluted and abused…. As it was meant to be: Agile == Adaptive ==Flexible.  We all have to be careful with the meaning of words we use, to avoid this painful irony?.
---
Here are some Kodak moments from the event: