Experience Report by Vaibhav Gandhi: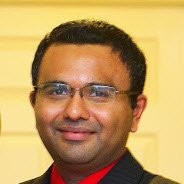 As a senior coach working in a large financial institution that is on a continuous improvement journey it is key to understand what does "good look like" from an organizational perspective. I tend to have these deep conversations with my coaching partner
George Pefanis
. One of his suggestions was to come meet Craig Larman. This started my journey towards understanding true enablers for creating a learning organization. During his course Craig emphasized having a common goal. This goal could be aligned at the organizational level, system level and/or product level. Keeping this goal at the forefront I received a tactical skill named system modeling. My interpretation of this skill is a new way of thinking and articulating my deep thoughts. It was a very eye-opening experience. Using system modeling I intend to create a shared understanding of our current reality and factors that will support our optimization goal. In addition, I found Craig's discussion around "Owning vs Renting" very insightful. Any change you desire within your organization has to be thought and executed by the actual folks in the system; meaning the actual Developers! This also means doing more with LeSS. So it means no outside consulting change groups, no PMO, no Center of Excellence structures.