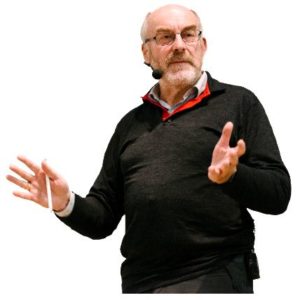 A great talk today (this is round 2), with
Dave Snowden
(round 1  was on
04/20
), who took on some provocative and pretty powerful questions.  All points that Dave made were strong.
Here is one that resonated really strong (the quote in blue below is semi-transcribed/paraphrased, starting from about 4 min 20 sec in the video recording below):
"…SAFe is perfect for big consultancy firms…
With big consultancies, when the ratio between a principal and a doer (partner and consultant)  is up to about  from 1:5 to 1:10 – apprentice model.
With ratio of above 1:15 – it becomes an industrial model (you have to "feed" a lot of people), when you get more structured processes and recipes.
This is why big consultancies want high utilization and long-term projects, [using] Six Sigma, BPR, SAP…etc.
What they like is a massive roll out, with lots of people, over a long period of time.
What they DONT like, are small improvements in the present.
…So you [if you are a client company] are better off working with small consultancies, not big consultancies….".
Author's note: This is how a client-company can become a subject to "
triple taxation
". Avoid this.
---
Dave's Bio:
David Snowden divides his time between two roles: founder Chief Scientific Officer of Cognitive Edge and the founder and Director of the Centre for Applied Complexity at the University of Wales. His work is international in nature and covers government and industry looking at complex issues relating to strategy, organisational decision making and decision making. He has pioneered a science based approach to organisations drawing on anthropology, neuroscience and complex adaptive systems theory. He is a popular and passionate keynote speaker on a range of subjects, and is well known for his pragmatic cynicism and iconoclastic style.
Additional resources from Dave:
---
Next virtual LeSS Training: