Key Steps To Success
Agile Flyer
This week's "Give Thanks For Scrum 2016" in Boston
On Tuesday November 22, Agile Boston celebrated its 8th Anniversary,
by organizing Annual Give Thanks For Scrum event.
The main theme of the event was: Scrum – A Foundational Element of Major Agile Scaling Frameworks.
During the event people learned from regional experts about how Scrum is at the heart of major Agile scaling frameworks like Scrum@Scale (from Scruminc.), Nexus (from Scrum.org),
SAFe and LeSS. Attendees also heard from regional executives who presented how successfully their organizations have scaled Scrum and the lessons they have learned along the way.
Event Speakers
| | | | |
| --- | --- | --- | --- |
| Jeff Sutherland | David West | Gene Gendel | Daniel Mezick |
| Yuval Yeret | Tammy Sparrow | Rirchard Gratton | Patricia Taylor |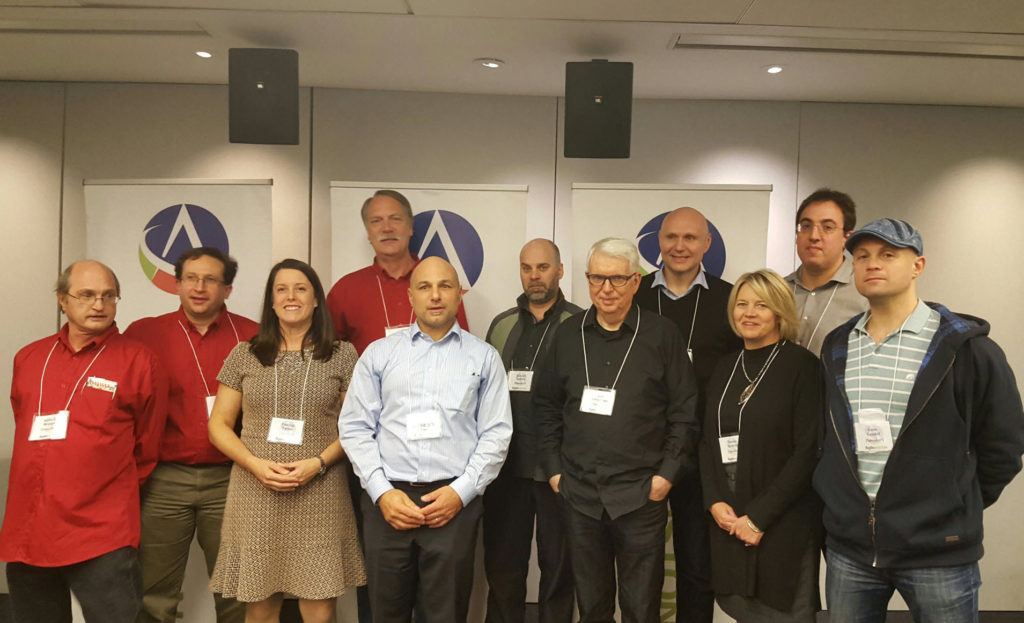 Below are Top-5 take away points from each speaker:
 LeSS presentation, by Gene Gendel
LeSS is NOT!: many teams doing their own Scrum OR "safe Heaven" for existing organizational dysfunctions OR an attempt to "scale" Scrum to match existing organizational complexity

LeSS provides clear distinction between the two types of relationships that involve Scrum Team(s) and Business: Clarification (from users, customers, SMEs) and Prioritization (from Product Owner)

Geographic distribution in Scrum that keeps team members together (even though it may separate individual teams that work on the same product) is still not as harmful as separating members of the same team

Component Teams are caused by existing organizational silos and , subsequently, lead to Local Optimization (that merely offers Role Security), at expense of System Optimization

Frequently made assumption that the role of conventional Project Manager and the role of Scrum Master are the same – is a mistake. These two roles are very different: they engage with teams completely differently and their behaviors are not the same. Project Manager – coordinates and takes full responsibility for deliverable. Scrum Master – facilitates, while the whole team is responsible for deliverable.
Scrum @ Scale, by Jeff Sutherland
In 2016, lean alone is not sufficient enough. Agile competition goes way beyond lean manufacturing. It requires major changes in organization, management philosophy and operations.  Agile Transformations require Senior Leadership transform first.  Managers must become Leaders.

Agile & Scrum can and should go much further than software development. They may touch all organizational domains

Different companies have different needs for improved agility, e.g. Large Defense Contractor, mid-way software company, "Agile Native" company

Strategic Objectives determine Agile Approach. But you have to descale organization first, in order to scale scrum

FrAgile ("Shu" state) = CEO does not have agile mindset. Translation layer that sits between FrAgile layer and Waterfall layer (e.g. PMO), provides insulation and must be ultimately removed to get high performance
Nexus, by David West
Scrum is the most popular way teams are approaching Agile – About 90% of Agile teams are using Scrum. Because of this it forms the basis of all the scaling approaches, even home grown (VersionOne survey 75% using a Scrum of Scrum approach to scale).

Scaling where you add more systems, processes and organizational 'stuff' will not make you agile. Agility is the opposite with a strong focus on empowered teams working in a environment that support the three pillars of inspection, adaption via transparency.

Nexus is a light weight exoskeleton for Scrum helping teams have a consistent approach to scaling their product development. Nexus is not an approach to Agile IT, instead focusing on how you can have 3-9 teams working together on a backlog with a large number of dependencies.

Nexus is still Scrum, but adding an additional role of Nexus Integration Team, events of Nexus Sprint planning, Nexus Daily Scrum, Nexus Sprint Review, Nexus Sprint Retrospective, and Refine, and Artifacts of the Nexus Sprint Backlog and Nexus Goal.

If you have bad Scrum, Nexus will just highlight the bad – good Scrum makes scaling work.
SAFe, by Yuval Yeret and Daniel Mezick
We need to scale Scrum DNA, not just Scrum practices

"You can have things your way and push it if want, but this door is pretty stubborn". – "PUSH" approach does not work well with systems. You have a better chance to succeed if you "PULL"

What do you get when you scale an Agile Theater (a.k.a. Waterfall)? You get SAFe Theater (Starring the Managers-Only PI Planning, The Command & Control RTE, w/ special guest – Waterfall Thinking)

Scrum is a foundational piece of SAFe's Team Level and is best seen on Essential SAFe 4.0 schema

In order to SAFely scale agile, you must use Real/Genuine Scrum DNA + Lean/Agile Principles + Leadership
…Something else you need to know about LeSS….
Scrum Alliance (SA), by far, is the largest agile organization, worldwide, and is represented by so many highly exprienced Coaches and Trainers, whose main goal is best described by the following slogan: "we are changing the world of work".  
While educational curriculum, delivered by SA Certified Scrum Trainers (CSTs) is very rich, its main focus has mostly been on Agile Manifesto (with its values & principles), core Scrum (with its roles, responsibilities, artifacts and ceremonies), and with orientation towards and support of basic Scrum certifications, such as CSM, CSPO and CSD.Scrum Alliance has never taken an official position with regards to agile/scrum adoptions at scale.
Its position has always been neutral and agnostic to scaling: "our Coaches and Trainers are versatile enough to pick the best approach for their clients".
And indeed, when it comes to recommending scaling solutions, Certified Enterprise Coaches (CECs) and Certified Scrum Trainers (CSTs)
have a plenty of 'scaling tools' in their toolbox to offer, and they do it situationally, based on specific needs of each client.However, over the last few years, there has been a very strong trend in CST/CEC community with regards to scaling preferences.
If we take into account shared personal experience, case studies and research, coming from Coaches and Trainers, it becomes apparent that a very significant number of them are very supportive of Large Scale Scrum (LeSS), as a preferred scaling approach. Many CSTs have built LeSS teaching in their CSM and CSPO courses. Many CECs have been using LeSS, with its strong principles, guidelines and numerous expericences to de-scale companies, challenge classic system dysfunctions and improve organizational design.Many CECs and CSTs have also become Certified LeSS Parctititioners (CLP) by attending LeSS courses. Also, there is a growing number of
CECs and CSTs that are in pursuit of LeSS Trainer accreditation – to be able to teach LeSS in a more structured way.What does this overwhelming interest in LeSS mean for the agile community at large? For organizations? For Coaches, Trainers, Scrummasters,
Product Owners, teams?
Will LeSS become the "main stream" for scaling in a future?
Will it become as widely recognized in the US as it is in Europe and EMEA (another very interesting trend that is observed!!!)?
It is worth mentioning that there are a few other good agile scaling frameworks available. But LeSS seems to be picking picking up speed and noticeably.
Time will show…Perhaps, soon…
With that said, here is the great opportunity to learn Large Scale Scrum from Craig Larman himself — he is the co-creator of LeSS.

This is the last opportunity this year and probably for a while now (Craig is planning to engage long-term with one of his clients) –
to have LeSS course taught by Craig himself, in its very original form.

Also, receiving LeSS training directly from Craig has another great benefit:
Craig has probably the most exentsive list of experiments with LeSS adoptions and has many real life stories to tell.
 In this 3-day highly-participative course, people will get a thorough understanding of Large Scale Scrum,
for scaling agile development to many teams working together on one product.
In-depth, you will explore adoption, new organizational design, systems thinking & optimization, the role of management, and approaches of working together in Sprints at scale, by optimizing coordination, architecture and planning.
This course will also include an in-depth Q&A clinic based on Craig's long experience with LeSS adoptions.
Here are some highlights of the course:
LeSS Overview (LeSS principles, frameworks, guides, experiments)

Two LeSS frameworks: basic & LeSS Huge

Adoption (pre-adoption & the adoption guides, 3 principles, getting started, scope of first adoption, stories of LeSS adoptions

Local Optimization & System Optimization

Adoption: Organizing by Customer Value

Shu-Ha-Ri and frameworks

Empirical process control

Occupational psychology

Lean thinking & value-driven

LeSS Sprint

Done & Undone in LeSS

LeSS Rules

LeSS Huge Framework

More on LeSS Roles

Managers in a LeSS organization

ScrumMasters at scale

Product Owner in LeSS

In-Depth Special Topics: A Deep-Dive Q&A Clinic

….and much more…
If yo would lile to read more about the agenda of this course and register, please follow this link.  You may use the following discount code: hrte416 get a cheaper price.
More upcoming Agile Events in NYC:
Fresh Collection of Ad-hoc Agile References:
I continuously collect articles and publications that come from everywhere: colleagues coaches and trainers, clients, accidental encounters. I keep a comprehensive list of resources here, categorized by themes.