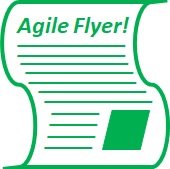 What is Agile Flyer?
Is a periodic (once-twice a month) news release.  Its content includes notifications about upcoming agile events, locally (NYC) and globally, articles/blogs/publications on most popular agile topics (e.g. organisational design, system dynamics/modelling, agile engineering practices, vendor management, employee procurement,  HR, finance, situation with conventional roles in agile organizations), certification and mentoring programs, and much more…  Please note that Agile Flyer materials are collected through reviews of other independent (and credible) information sources, in close collaboration/networking with other reputable agile trainers, coaches  and organizational design consultants around the globe.
By visiting this page, you are not automatically subscribing to  Agile Flyer.  In order to subscribe, you need to provide your email at the top of this page or email directly to this email address, requesting to be added to the list.  You will then receive an automatic invitation from a robot :).
At any point in time, if you choose to do so, you will be able to unsubscribe from Agile Flyer.
Please note that your email/credentials will not shared with any third parties.
---